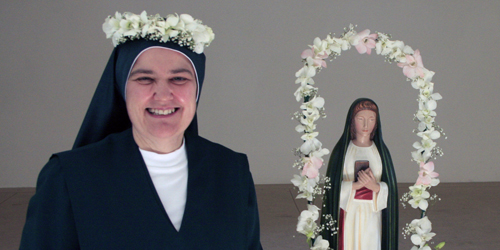 On the 20th November 2011, the Solemnity of Christ the King, our novice, Sr Emanuela professed her vows in our community.
Kneeling before His Eminence Cardinal Mauro Piacenza, surrounded by her sisters, family and friends from the Irish Pontifical College and the North American Seminary, Sister Emanuela made the vows of poverty, chastity and obedience.
The moment when Mother Rebecca removed the white veil and replaced it with the green veil was very emotional. The Cardinal went on to bless the ring and gave Sr Emanuela the Religious Rule as the outward signs of her consecration to God.
With arms outstretched she sang 'Suscipe me, Domine' which means 'Welcome me O Lord'. The Benedictine style profession created a heavenly atmosphere which called everyone the think of 'heavenly things'. During communion the well-known hymn 'Here I am Lord' was sang by all present which created the sound of a unified spirituality.
The final words of Cardinal Piacenza's homily summarise more than anything the spiritual tone of the unforgettable celebration:
'Dear Sr Emanuela with your own freedom which now belongs totally to Christ and not to the world, employed so that the light that was donated to you with the vocation reverberates around the brothers and sisters that you meet on your way. A religious profession doesn't estrange you from the from the humanity in which we are immersed, nor does it close our eyes to the many sufferings and trials of our brothers. However, we must not ever forget that the fundamental suffering of the sons of Adam resides in walking in a night without stars, which is a existence without truth.
You are not asked to be lost in the haze with them, nor to allow yourself to be swallowed up in their darkness, but rather to orientate them with the example of your own life.'
After the ceremony Sr Emanuela gave her joyful testimony and thanks to the Lord Jesus who has chosen her to be His spouse in the Community of the Missionaries of Divine Revelation.