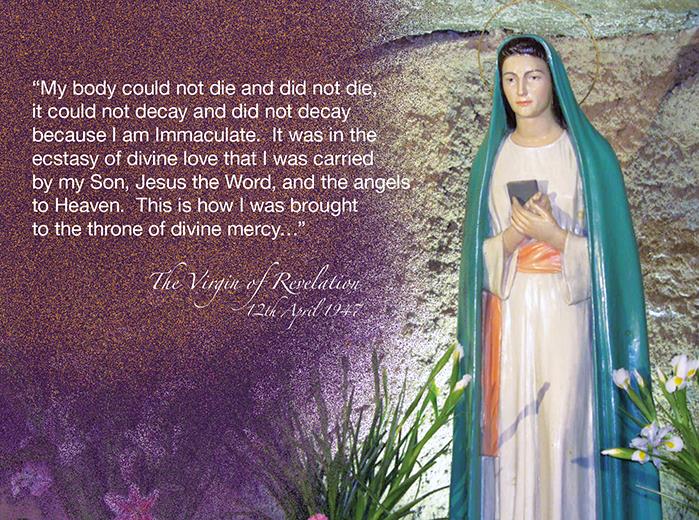 The Solemnity of the Assumption of the Virgin Mary
Each year on the 15th August the Church celebrates the Solemnity of the Assumption of Our Lady into heaven. This Solemnity is particularly important for the Missionaries of Divine Revelation because, just as the apparition at Lourdes confirmed the proclamation of the Dogma of the Immaculate Conception, in a similar way the apparition at Tre Fontane pre-empted the Dogma of the Assumption.
On the 12th April 1947, the Virgin Mary appeared to Bruno Cornacchiola and invited him to re-enter the Catholic Church that he had been persecuting. Amongst other things, Our Lady spoke of her bodily Assumption into heaven, and gave him a message for Pope Pius XII saying: "My body could not die and did not die, it could not decay and did not decay because I am Immaculate. It was in the ecstasy of divine love that I was carried by my Son, Jesus the Word, and the angels to Heaven. This is how I was brought to the throne of divine mercy…"
Pope Pius XII was informed of the events at Tre Fontane and believed in the apparition. On the 1st November 1950, with the proclamation of the Apostolic Constitution Munificentissimus Deus, Pope Pius XII made the solemn proclamation that "we pronounce, declare, and define it to be a divinely revealed dogma: that the Immaculate Mother of God, the ever Virgin Mary, having completed the course of her earthly life, was assumed body and soul into heavenly glory".
With the proclamation of this Dogma the Church celebrates the three privileges granted by God to the Virgin Mary. Firstly, at the end of her life Mary did not die. According to the tradition, she underwent a sort of sleep or "dormitio" before being assumed into heaven. Secondly, her body was freed from any form of bodily corruption because she is Immaculate and finally, that she was assumed into heaven and glorified by God.
This feast celebrates our destiny. Mary precedes us into heaven in order to indicate the road that Christians must take in order to follow her Son and reach our full destiny by sharing in His Resurrection. One day, like Her, we too will be able to live – body and soul – in heavenly glory. By preceding us, Mary gives us the hope of our blessed future. Therefore, let us invoke Mary and pray to her so that she will help us on our journey towards our destiny!
Happy feast of the Assumption
God Bless Us
And The Virgin Protect Us