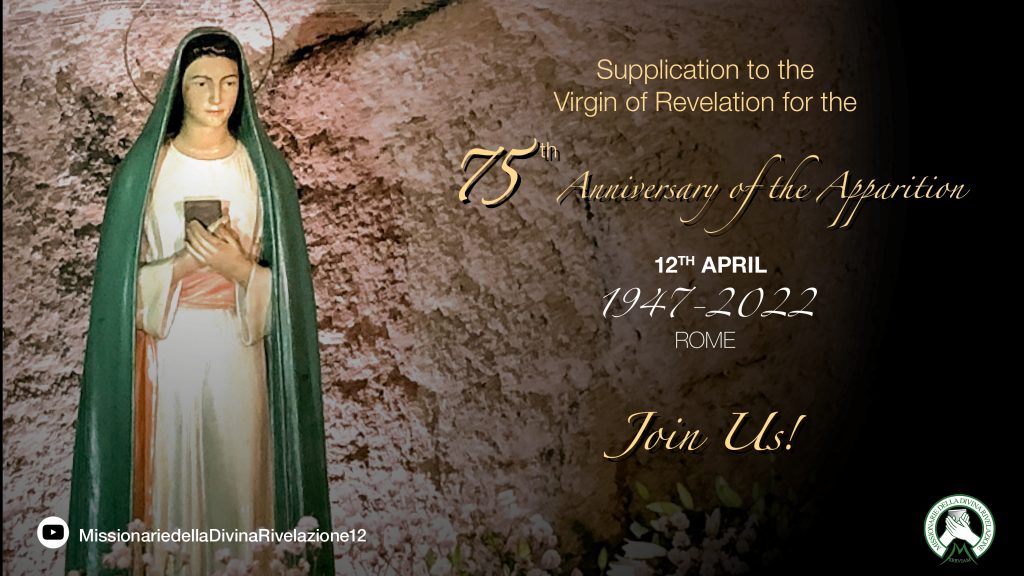 Introduction to the 15 minutes of prayer 
To commemorate the 75th anniversary of the apparition let us pray to the Virgin of Revelation together. Today, we recall the fact that 75 years ago, Our Lady appeared in Rome, and called us to live the true faith which, in turn, brings true peace to our lives and the world. (cf Message of the Virgin of Revelation 1947).
Let us ask our Blessed Mother for the grace to intercede for us to our Heavenly Father for an end to this terrible pandemic and to grant the world a lasting peace..
May we be spiritually united so that we will be strengthened in faith, hope and charity during this difficult time. The Virgin assured us, "Do not be afraid. With a Mother's heart I will be with you to give your hearts courage."
Therefore, let us pray courageously for an end to this suffering and ask Our Lady, who knew suffering, to sustain us in our tribulation. May she who suffered the death of her Son, dry the tears of all the Mothers in the world. May the woman that sung the Magnificat lead us to the joy of true hope.
Litany of Supplication
Help us to hope, O Lord!
If sin oppresses us,
Help us to hope, O Lord!
If hate closes our heart!
Help us to Hope, O Lord!
If pain visits us,
Help us to hope, O Lord!
If indifference causes us anguish,
Help us to hope, O Lord!
If death destroys us,
Help us to hope, O Lord!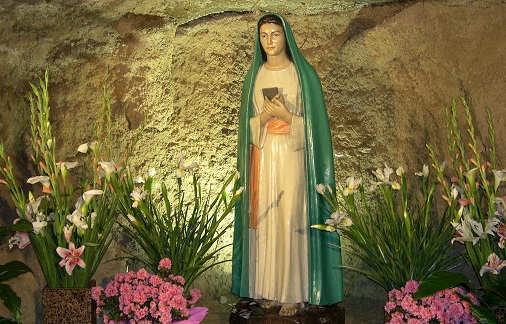 Supplication to the Virgin of Revelation
Most Holy Virgin of the Revelation, you who are in the Divine Trinity, deign we beg you; turn your merciful and kind glance towards us. Oh Mary! You are our powerful advocate before God, who by this soil of Sin will obtain graces and miracles for the conversion of sinners, grant that we obtain from Your Son Jesus, salvation of the soul, perfect health of body and the graces which we need.
A moment of silent prayer to
offer your prayers for an end to the Coronavirus and all the intentions you hold in your heart.
Grant to the Church and its head, the Roman Pontiff, the joy of seeing the conversion of His enemies, the propagation of the Kingdom of God over all the earth, the unity of all believers in Christ, peace among nations in order that we can love and serve You better in this life and one day deserve to see and thank you eternally in Heaven. Amen
Nihil obstat
+ Bishop Ilario
Hail Holy Queen
Hail, holy Queen, Mother of mercy, hail, our life, our sweetness and our hope. To thee do we cry, poor banished children of Eve: to thee do we send up our sighs, mourning and weeping in this vale of tears. Turn then, most gracious Advocate, thine eyes of mercy toward us, and after this our exile, show unto us the blessed fruit of thy womb, Jesus, O clement, O loving, O sweet Virgin Mary. Pray for us that we may be worthy of the promises of Christ. Amen.
Virgin of Revelation, pray for us and give us God's love.