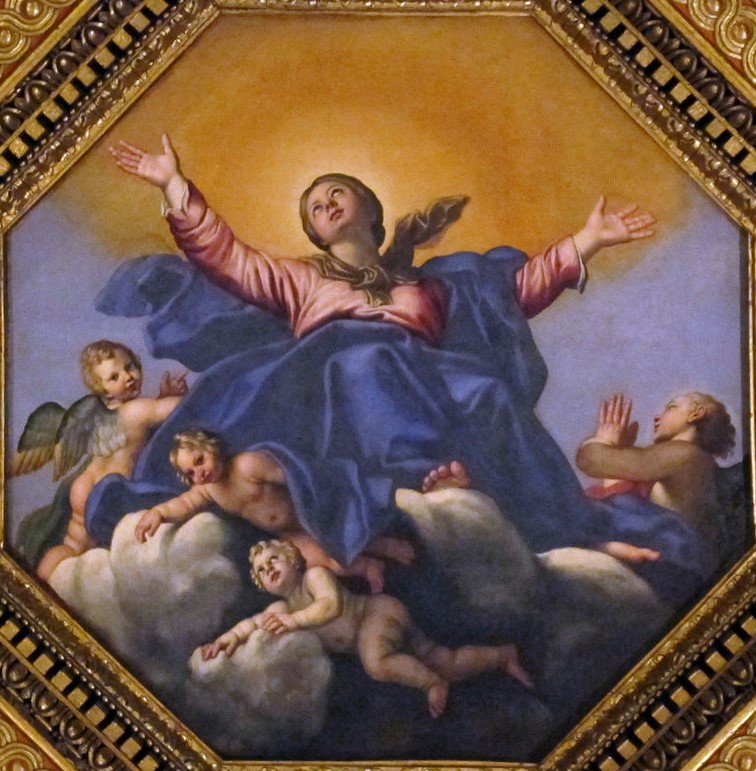 Novena for the Feast of the Assumption – Day 6
"A great sign appeared in the sky, a woman clothed with the sun, with the moon under her feet, and on her head a crown of twelve stars." (Rev 12:1)
The scholastic Doctors have recognized the Assumption of the Virgin Mother of God as something signified, not only in various figures of the Old Testament, but also in that woman clothed with the sun whom John the Apostle contemplated on the Island of Patmos. (cfr. Rev 12:1) Similarly they have given special attention to these words of the New Testament: "Hail, full of grace, the Lord is with you, blessed are you among women," (Lk 1:28) since they saw, in the mystery of the Assumption, the fulfillment of that most perfect grace granted to the Blessed Virgin and the special blessing that countered the curse of Eve.
Oh great Mother of God, we venerate your glorious Assumption into heaven, accompanied by the choirs of the Angels and your Only Son,. Help us to be humble in this life on earth so that one day we may be exaulted in heaven.
Let us pray,
Immaculate Virgin, Mother of Jesus and our Mother, we believe in your triumphant assumption into heaven where the angels and saints acclaim you as Queen. We join them in praising you and bless the Lord who raised you above all creatures. With them we offer you our devotion and love. We are confident that you watch over our daily efforts and needs, and we take comfort from the faith in the coming resurrection. We look to you, our life, our sweetness, and our hope. After this earthly life, show us Jesus, the blest fruit of your womb, O kind, O loving, O sweet virgin Mary.
Hail Mary.