On the 31 October 2012, the Missionaries of Divine Revelation had the great privilege of participating in Vespers in the Sistine Chapel presided over by the Holy Father, Pope Benedict XVI, to celebrate the 500th anniversary of the inauguration of the ceiling.
We have had the opportunity to enter the Sistine Chapel many times, accompanying groups of pilgrims from many parts of the world. However, it struck us that each time we enter the Chapel we feel different emotions and we never tire of admiring the beauty that is represented in this special place. On this occasion, we all felt complete stupor as we agreed with the sentiments that the Holy Father, Pope Benedict XVI, shared during his homily: "the Sistine Chapel, when contemplated in prayer, is yet more beautiful, more authentic and is revealed in all its richness. The great artist depicted God the Creator with an unique, intense expression showing His actions, His power to provide the evidence to say that the world is not the product of obscurity, of chance, of the absurd, but is derived from an Intelligence, from a Liberty, by a supreme act of Love." (Pope Benedict XVI, Homily Vespers 31.10.2012)
In effect, when looking at the ceiling, the first thing one notices is God in movement, a God in the very act of Creation, a creation that was "very good" (Gen 1:31) because all of His creatures form part of His mysterious project of love.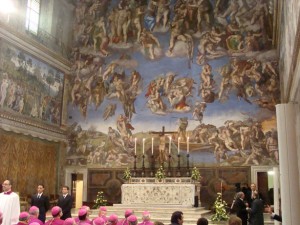 It was an extraordinary experience! It was significant from an artistic-historic and spiritual perspective. On one hand, it was incredible to think of the time that had passed from the 31st October 1512 when Michael Angelo, artistic genius, consigned his completed masterpiece to Pope Julius II after four years of hard work. Even today, his exceptional artistic talent continues to be admired by the millions of visitors to the Vatican Museums. On the other hand, from a spiritual perspective, as the Sistine Chapel is a liturgical place where heaven meets earth, it is a treasure chest which guards the entire deposit of the faith. It is also the place where the Cardinals, guided by the Holy Spirit, elect the Vicar of Christ on earth and he receives the keys to the kingdom. "And I say to you: That thou art Peter; and upon this rock I will build my church, and the gates of hell shall not prevail against it." (Mt16:18)
Our observations rise to the altar wall where the wooden Crucifix stands before the scene of the Last Judgment that covers the entire wall. Michael Angelo's genius realized this work some 25 years after finishing the ceiling. These two masterpieces create a continuous dialogue between the people depicted in the scenes and the spectator that has visited the Chapel, decorated in this way, over its 500 year history.
The imposing figure of Christ the Judge, infinitely merciful, is about to start the Judgment on the last day and on that day, "it no longer matters what we once were in history, but only what we are in truth." (cfr. Pope Benedict XVI Encyclical Letter, Spe Salvi, n. 44)