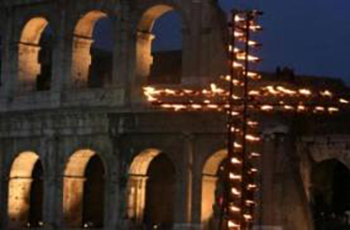 Blessed are you when they insult you and persecute you and utter every kind of evil against you because of me. Rejoice and be glad, for your reward will be great in heaven. Thus they persecuted the prophets who were before you. (Mt 5:11-12)
Christians are constantly persecuted! Prior to the year 2000, a Pontifical Commission for new martyrs estimated that in the 20th Century alone there has been 27 million martyrs for the faith! That equates to 270,000 martyrs every year during the 20th Century or 740 martyrs every day! With facts like this before us, Jesus warning of persecution in His name rings very true…but so too do His words of consolation: "Your reward will be great in heaven." (Mt 5:12) We should also start to consider the Christians from all parts of the globe who are bearing the weight of persecution in Iraq, Syria, Egypt Nigeria…..and so we could go on.
Constantly we are bombarded with news of tragedies that have been inflicted on the non-islamic faiths: women raped, Churches burned to the ground, Priests and entire congregations martyred because they won't renounce their faith in Christ. The fate of the Christians of Iraq comes to the forefront of our thoughts as their homes have been marked with the Arab symbol of the "n" or "noon" which stands for Nasara or Nazarenes which is a pejorative word for Christians. They have been told by the radical Islamic Group Isis that "they must convert to Islam …or face death by the sword". As a result the Christian minority population in Iraq has decreased from 1.4m to 150,000 and all who remain face persecution, torture and martyrdom. 2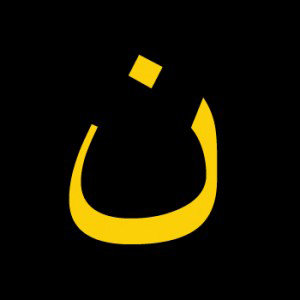 Man is often outraged by violence in the name of religion and asks, " What type of God can want this carnage?" or "What God can want a person to proclaim belief in a god only on threat of murder?" In the light of Christian Revelation we can only respond that these things are not done in the name of God but, rather, these are the outrages of man who has deformed the image of God by their actions.
In the contemporary world one often speaks much of human rights and liberties. Indeed, Article 18 of the Universal Declaration of Human Rights, ratified by 53 member states, agrees to guarantee that everyone has the right to freedom of thought, conscience and religion. However, in many places that right, which comes from God, Himself, is often violated or simply ignored whilst the International Community fails to act. God gave us the right to believe in Him – to say "yes" or "no" and indeed, it is this fundamental right that makes religious belief true, strong and free.
This is the greatness of God: He loves us so much He respects our liberty permitting us to refute Him or not. God is love (1 Jn 4:8) God loves us (cfr Jn 3:16) God is not a dictator who wants the whole world on its knees in adoration proclaiming their faith due to a threat of violence.
With great poignancy we contemplate those men and women forced to flee in the name of Christ. The Christians who today bear the name of the Nazarene and carry His cross. In the words of the exiled Chaldean Archbishop of Iraq: " I lost my diocese. The physical setting of my apostolate has been occupied by Islamic radicals who want us converted or dead. But my community is still alive." (Archbishop Shimoun Nona)
How do we Christians respond in the face of such persecution? To those Christians, our fellow brothers who risk their lives each day to profess our faith, we must offer our solidarity, prayers, mortifications, sufferings and offerings of Holy Mass. Also, if possible we must not forget any economic assistance that we can afford for those who have lost everything. This is ecclesial communion and the great power of the Church to unite all in Christ as brothers.
We must also give our own testimony to Christ. The outrageous Christian claim is that God became man. Jesus is the very Son of God sent by the Father to reveal His love to us. This is the foundation of our faith and St Paul reminds us that it is a stumbling block or foolishness to those without faith whilst at the same time it is the power and wisdom of God (cfr 1 Cor:23-24) This is the reason why Christians have been persecuted through all time.
We are called to testify to Christ – We who enjoy the freedom to proclaim our faith should proclaim it. We should strive against all tepidity acknowledging Christ for who He really is so that, in the words of RH Benson, "He begins to live before our eyes, He tears from Himself the conventions upon which our imaginations have clothed Him; He lives; He moves, speaks, acts….He begins to reveal secret after secret hidden in His own humanity." (The Friendship of Christ RH Benson)
Let us not be afraid that "Sanguis martyrum – semen christianorum" the blood of the martyrs is the seed of the Church. (Tertullian) All Christians must be prepared for persecution. Christian persecution has many forms: the removal of Christian symbols like the Cross and cribs at Christmas; prejudice at work; legislation against life and physical persecution and torture, even martyrdom.
All Christians should be willing to unite under the symbol of the Nazarene! We must know our faith, and live it even to the point of losing our lives if necessary. The size of the Church is not important – but the Church needs true Christians who hold their faith sincerely. Let us take our inspiration for the thousands of martyrs of our times – those of TODAY! Let us pray that we too will hold firm to our faith in times of peace and of persecution. The Lord asks us to follow Him. He asks that we take up our cross to witness to the world of His love. Our lives are always before us, but we must always remember that it is life with God that is eternal and so we should strive in this life to win heavens prize no matter of the difficulties.
Then Jesus said to his disciples, "Whoever wishes to come after me must deny himself, take up his cross, and follow me. For whoever wishes to save his life will lose it, but whoever loses his life for my sake will find it. What profit would there be for one to gain the whole world and forfeit his life?
(Mt 16:25-26)