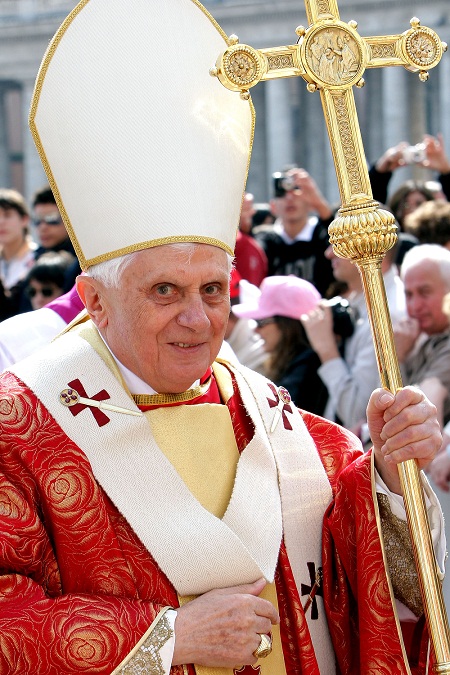 On 11 February 2013, during the Consistory for the canonization of three saints, Pope Benedict XVI announced his decision to leave the See of Peter.
The news spread rapidly throughout the whole world and was followed by the reaction startled the whole Catholic world and beyond.
This was, as stated by the Pope personally, a difficult, but inevitable, decision. The Supreme Pontiff is conscious, more than anyone, of the challenges that the Church faces at this time and the strength necessary to guide it. Benedict XVI acknowledged that he no longer has the physical strength necessary for the Chief Shepherd of the flock.
We all saw Pope John Paul II who fought against illness to the end of his life whilst still retaining the role as the Supreme Pontiff. We can ask ourselves what lesson does Pope John Paul II example give to us? Primarily, he taught us to live, or rather, to live with pain and suffering. He taught us to embrace the cross that everyone experiences at some time in their life, whether we accept it or not.
Now we have to ask ourselves the same question with regard to Pope Benedict XVI's example. What can we learn from Pope Benedict XVI's decision?
Pope Benedict XVI decision shows, without any shame and fear, that he knows his limits. Now these physical limitations make him unable to continue his ministry. With great humility and confidence in our understanding, Benedict XVI asks for our forgiveness for all his faults. We must recognise that the Holy Fathers decision is not due to the weight of his faults, or even the failure of his mandate as some might say, but his physical condition which, at some point in our lives we all too must face. In this decision we see Pope Benedict XVI's paternity. He is not willing to leave us "like sheep without a shepherd" but he wants the Church to have a new Pope who, by grace of the Holy Spirit, will have all the physical strength to lead the Church.
It is with great trust and affection that we embrace the wisdom that flows from Pope Benedict XVI's great paternity of the Church. He does not want the Barque of St Peter to be bogged down with health issues but able to freely fight the good fight of the faith, carrying out the mission entrusted to it by Christ.
During this same battle, Pope Benedict has left the Pontifical throne but continues to fight with us using the most powerful weapon in the world: prayer. Pope Benedict's last words in the Declaratio stress that he continues to be a servant of the People of God as he wishes to "devotedly serve the Holy Church of God in the future through a life dedicated to prayer" (Pope Benedict XVI Declaratio)