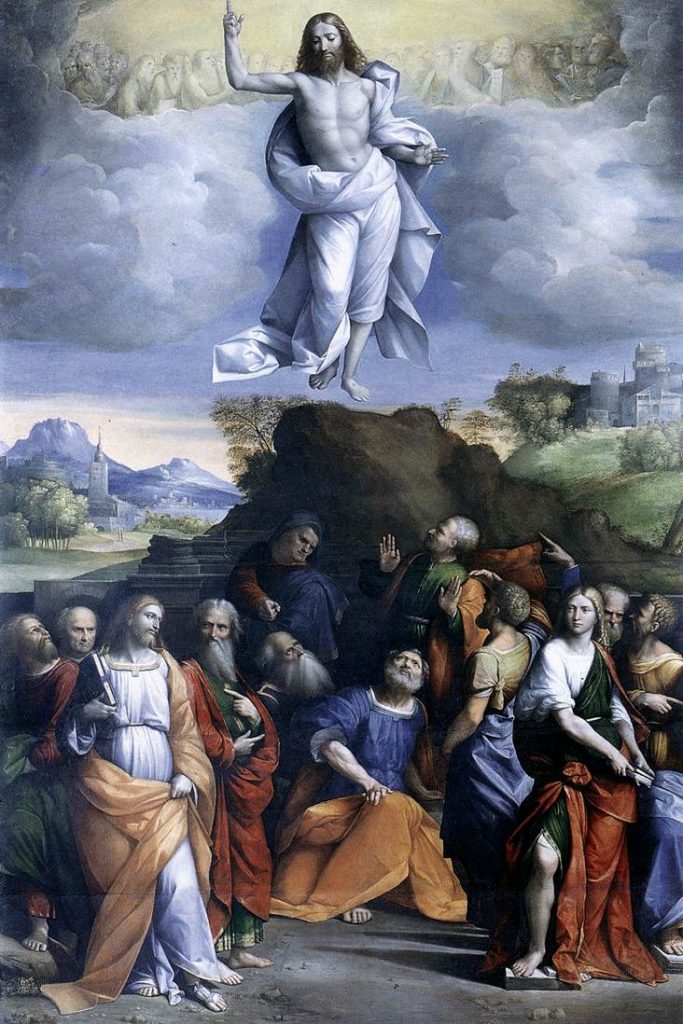 Today's liturgy gives us the opportunity to meditate on three key words: Ascension, go and heaven. These words can help us to contemplate the mystery of the Ascension of the Lord.
First and formost, there is the word, "Ascension". Both the first and second readings from today's Solemnity speak of the Lord's Ascension: "[…] as they were looking on, he was lifted up, and a cloud took him from their sight." (Acts 1:9) St Paul's letter to the Ephesians reads, "raising him from the dead and seating him at his right hand in the heavens, far above every principality, authority, power, and dominion, and every name that is named not only in this age but also in the one to come." (Eph 1:20-21) Both excepts from the Scriptures speak of the Jesus' passage or Ascension into heaven. Christ's entrance into heaven through His Ascension opened the way for heaven and earth to be linked forever. The separation between the world of men and that of God no longer exists because these worlds have been connected in virtue of Christ's Ascension into heaven. In fact, Jesus, Himself, is the Way that joins these two worlds. He is the door by which man can return to God's paradise.
The second word is "go". "Go, therefore, and make disciples of all nations". (Mt 28:19) The Good News of the Gospel has been given to us to understand and to live. The mystery of Christ coming and God's great plan for all mankind, is for everyone. We cannot retain this treasure for ourselves. The Lord's command is clear, and it exhorts us to go everywhere and to tell everyone the truth of this Way which leads us to God. The disciples are sent to announce the Gospel and the coming of the Kingdom of God to all people. Even today, the Church contemplates and journeys. The Church contemplates her Lord that has Ascended into heaven and joyfully journeys towards our heavenly homeland whilst announcing the salvation of God to everyone.
The third word is "heaven". The mystery of the Ascension reminds us that heaven is a reality that already exists in our time. Although it remains veiled from our sight, we can experience heaven by the virtue of the faith. God came to live amongst men on the earth bringing heaven and the realm of God to the earth. Heaven is Jesus! The more we have a living faith, the more our human 'sight' and perspectives can discover the reality of heaven that lives here on earth. This is possible because, as the Risen Lord Jesus said, He is with us "always, until the end of the age" (Mt 28:20).
From "All atua luce, Signore, vediamo la luce" by Bishop Guido Marini +