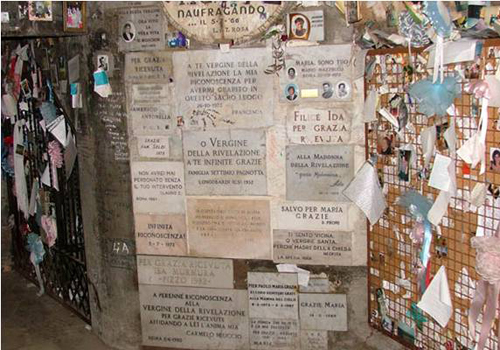 The Miracles that occurred with the Soil of the Grotto
At the end of May 1947, the press publicised the news of the apparition at Tre Fontane (Three Fountains). Many devotees went to the grotto, where they felt the presence of the Mother of Mercy and there were many conversions and miracles. Mary told Bruno: 'I will convert the most obstinate with the miracles I will work with this soil of sin'. Like the water at Lourdes, the soil of the Grotto of Tre Fontane is sanctified by the presence of Mary, who by means of our faith will work great miracles.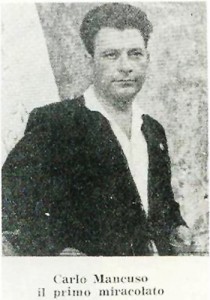 The first miracle: In June 1947 Carlo Mancuso fell down a lift shaft and received injuries to his arm and pelvis. With the soil of the Grotto he was able to walk again although the X-Rays still show the fractures in his body.
In summer 1947, a soldier from Naples was admitted to the Celio Military Hospital with a brain tumour and was completely healed after a Sister placed some soil from the Grotto on his head.
On the 5th October 1947, the feast of Our Lady of the Rosary, the statue of the Virgin of the Revelation was taken to St Peters Square to be blessed by Pope Pius XII. There was a great silence and the statue was unveiled whilst many devotees, including those that had received miraculous cures, honoured the Blessed Virgin. The Statue was placed on a carriage covered in white flowers and pulled by six white horses. The Statue was processed through Rome via the Imperial Forum and the main Roman streets flanked by many devotes of the Virgin until it finally reached its resting place: The Grotto at Tre Fontane.