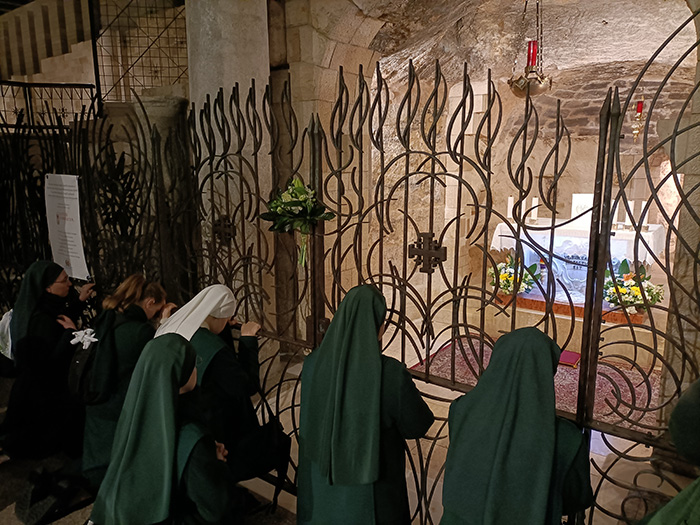 "A light for revelation to the Gentiles," are the words that resound today in the Church which remembers the Feast of the Presentation of the Lord in the Temple. The entrance procession, with lighted candles and the words of the Gospel, introduce the mystery of that Child who is the true light that illuminates the world. (Jn 1,9)
It was this awareness that moved the prophet Simeon to proclaim his Canticle that special day. It was the radiance of Jesus that guided the Prophetess Anna, to speak to Him as the Redeemer. Further, it was the innocence of God that Mary and Joseph, by offering the Lord in the Temple, had given to the world.  For 2,000 years, thousands of men and women have followed that same light by consecrating their lives, old and young alike, to become a reflection of the splendour that they saw in the eyes of Christ.
St John Paul II wished to dedicate a worldwide day of celebration to them to underline the fundamental importance of their donation to Christ and the entire world.  Just like Simeon, they are called to fix their gaze on the Lord and to proclaim His presence to the world as a "light to illuminate the Gentiles." (Lk 2,32) In addition, through the profession of the religious vows of chastity, poverty and obedience the religious make Jesus their only love. Their profession makes Him their exclusive reason and choose the will of the Father as their lives work.
In this 27th day for the Consecrated Life, let us invoke the mercy of God for these children of the Church who are called to follow the Lord. Let us ask Him, the start and ultimate end of every vocation, to grant every consecrated person, the grace to promptly respond to His voice.
May we invoke the Holy Spirit to descend on them so that these men and women may never retreat from the audacious mission entrusted to them by the Lord. May they faithfully guard their generous love with which they said their, 'yes' to God.