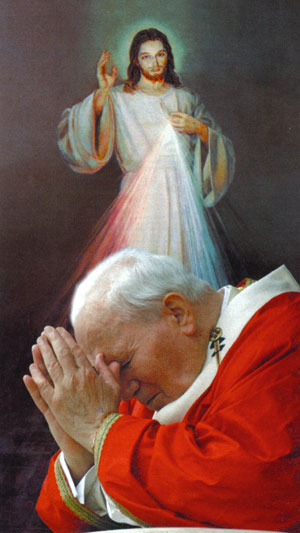 On May 1 marks the Sunday of Divine Mercy, Feast instituted by John Paul II in 1992.
John Paul II deeply loved the Divine Mercy and the message that Jesus himself had left the young Sister Faustina Kowalska of Cracow, who died in odor of sanctity, in 1938.
John Paul II was aware of the story of Sister Faustina in 1941. At that time, in fact, worked in the Solvay chemical factory, in Lagiewniki, a suburb on the outskirts of Krakow. Before starting work, he stopped at the Chapel of the Convent of Sister Faustina Kowalska and there he stood in prayer. Since then, the Divine Mercy has always been at the center of his spirituality and his life, learning to overcome evil with good (cf. Rom 12, 21), and seeing in it the ultimate limit that God has placed in the wrong.
He lived under two dictatorships, John Paul II has never lost hope, because they know that, as Benedict XVI has reiterated recently, the last word on human evil and the story of God, his mercy is capable to make all things new (cf. Rev 21:5) [25 March 2011]. "Mercy is the name of God, the face with which He has revealed in the Old Covenant and fully in Jesus Christ, the incarnation of the Creator and Redeemer.
Like Sister Faustina, John Paul II was in turn an apostle of Divine Mercy. That unforgettable Saturday, April 2, 2005, when he closed his eyes to this world, was the eve of the Second Sunday of Easter, and many noted the singular coincidence, that unites the Marian dimension of the first Saturday of the month and that of Divine Mercy. Indeed, his long and multifaceted pontificate lies in its central core, and all his mission in the service of truth about God and man and peace in the world is summarized in this, as he himself said in Krakow -Lagiewniki in 2002, inaugurated the Shrine of Divine Mercy: "Outside the mercy of God there is no other source of hope for human beings" (Divine Mercy Sunday, March 30, 2008). "Only Divine Mercy is able to put an end to evil, and only the almighty love of God can defeat the tyranny of evil and the destructive power of selfishness and hatred" (April 2, 2008).