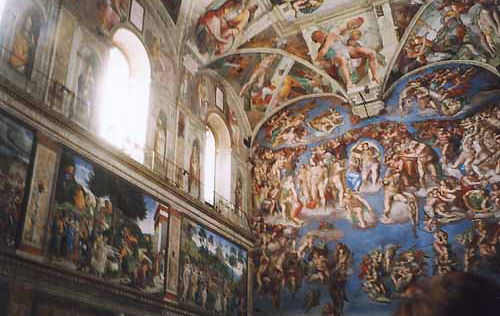 In the course of the centuries, the Sacred Scriptures have become a source of inspiration from which Christian art and culture was drawn. From the beginning, the account of creation contained in the Bible has ignited the imagination of artists. On numerous occasions the words of the Bible were defined in images that have evoked, in the language of art, the mystery of God made man.
In the Vatican Museums, believers and non believers follow the story of humanity as pilgrims in time accompanied by the greatest artists of their day. Culture, art and faith are concentrated in the pictures and sculptures that embrace the long centuries. The Sistine Chapel, that takes its name from Pope Sixtus IV Della Rovere, remains a fascinating contemplation of the continuity of life before, during and after the Redemption. The Last Judgement fresco, a work by the genius Michael Angelo, completes the story of Salvation conducting the visitor, the pilgrim, or the tourist to the Christian hope of eternal life.
It is an occasion through which the Vatican Museums reveals the educative dimension of art according to a clear iconographic, pedagogical programme.
To make a school booking, please complete the electronic booking form by clicking on the following link:
Electronic Booking Form