"All those who place themselves under my green mantle of mercy I will protect."
Dear devotees of the Virgin of Revelation,
This year, Easter is on the 12th April and so the celebration of the 73rd anniversary of the apparition of the Virgin of Revelation at Tre Fontane on the 12th April 1947 is transferred to Monday 13th April 2020. In addition, the circumstances of the Coronavirus do not permit us to celebrate the anniversary of the at the Shrine but we are firmly convinced that, in God's plans, everything has its meaning and, even the sorrowful things, can bring benefits.
During the quarantine, we have received many intentions from all over the world and there have also been many acts of entrustment to the Virgin of Revelation in this time of trial. Faced with the desire of Our Lady's children to place themselves under her green mantle of mercy, we have decided to celebrate this years' anniversary by uniting everyone in a constant prayer to the Virgin Mary.
From the morning to the evening of the 13th April, we will recite the Supplication to the Virgin of Revelation and offer 15 minutes of prayer.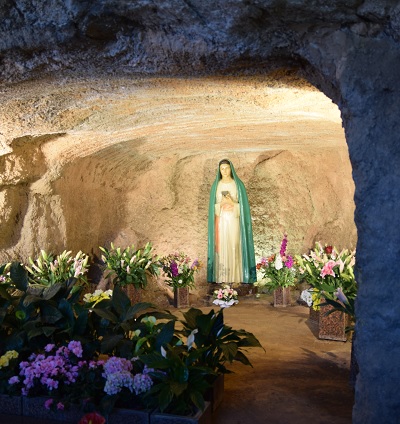 From 8am in the morning to 8pm in the evening, every 15 minutes there will be a devotee of the Virgin in the USA, England, Canada, Ireland, Brazil, Mexico, Argentina, and Italy that will recite the Supplication to the Virgin of Revelation to honour Her and to ask for Her intercession for an end to the Coronavirus.
Those who want to participate in this devotion by offering 15 minutes of your time in prayer, can send your name, the time (from 8am to 8pm) that you are able to recite the Supplication and the name of the city where you live to our email
Thank you for the love and devotion that you have for the Virgin of Revelation.
Here's a quick summary of what to do:
1. REGISTER by sending your name, city and time (between 8am-8pm on the 13th April) that you will say the Supplication to the Virgin to our email address or via the contact form on the web site.
2. PRAY – On the 13th April recite the Supplication prayers at the time you indicated. The prayers are available by clicking this link.
3. HOLY ROSARY with MDR –  13th April at 6pm Rome time / 5pm UK time and Mid-day in North America the MDR will live stream the Rosary in ENGLISH from the Convent to celebrate the feast with all English-speaking devotees. The Rosary will be streamed on Facebook and YouTube. Join Us!