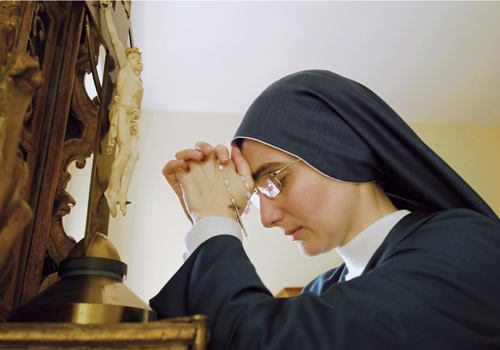 From when I was a young girl, I felt a strange and indefinable sensation that something was missing in my life. Even in the most joyful moments of my life I felt this sensation though I didn't understand why. I suffered because I thought it was strange and 'abnormal'.
When I graduated, my professors predicted a brilliant brilliant and satisfying future but this feeling became even stronger. None of these great possibilities were enough for me – my soul felt empty. With great confusion I turned to the Lord and asked Him "what do you want from me? It's like I'm in a fog – what can I do?"
Through intense prayer and the guidance of a good priest, I realised that the Lord was asking me to put Him in the first place. He wanted me to leave everything and follow him, even though this meant leaving a secure future, not just for me, but also for my family. Jesus called me to make an act of faith. I was afraid, but with his help I understood that having faith did not mean taking a jump without knowing where I was heading – it meant leaping into the strong and safe arms of Jesus from whom no one could separate me!
On January 1st 2003 I made the 'leap of faith'. I left everything and entered the community of the Missionaries of Divine Revelation. What joy! I couldn't describe it! At last I found what I had been missing – it was Jesus and my desire to do all for Him, with Him and in Him! In Him I found the real meaning of life. After that day I didn't miss anything, because my soul rested in Him with the fullness of joy.
I thank the Lord for the gift of my religious vocation and I pray that all young people called like me to follow Him more closely will not be afraid to leap into his arms. We don't really lose anything when we leave the things of this world -we receive something much greater.
Don't be afraid! If you receive the call to serve the Lord, respond 'yes', have faith and you will find the true life.
Sister Maria Priscilla