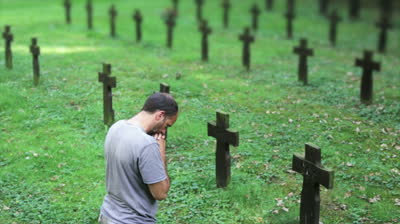 A Special Indulgence for the Holy Souls.
November is the time in the Liturgical year when the Church calls us to pray for the Holy Souls in Purgatory. With the feasts of All Saints and Holy Souls on the 1st and 2nd of November respectively we are drawn to think about that eternal link that exists between us here on earth, the saints in heaven and those holy souls who are expiating their sins in purgatory.
The Church has always taught us, and the saints have reminded us, of the great relief that the souls in purgatory receive from our prayers. In the encyclical letter Spe Salvi, Pope Benedict XVI offered these encouraging words about praying for our departed loved ones, "….my prayer for another is not something extraneous to that person, something external, not even after death. In the interconnectedness of Being, my gratitude to the other—my prayer for him—can play a small part in his purification. And for that there is no need to convert earthly time into God's time: in the communion of souls simple terrestrial time is superseded. It is never too late to touch the heart of another, nor is it ever in vain." (Pope Benedict XVI, Spe Salvi, no 48)
It can be a very comforting practice for bereaved families to visit the cemetery to pray for their loved ones. However, it is even more comforting, as our faith teaches us, to believe that our loved ones are still with us and can be helped by our prayers to enter into the Eternal beatitude with the Lord. Therefore, in order to encourage the practice of praying for the dead, the Church has granted a plenary indulgence that can be applied to the souls in purgatory if the faithful make a visit to a cemetery to pray for the dead from the 1st November until the 8th day of November. It can be applied to our loved ones or to a soul with no-one to pray for them. The indulgence can be gained on each day. To obtain the indulgence the usual conditions apply: the visitation to a cemetery or a Church where souls are buried, sacramental confession (within 7 days), Eucharistic communion, prayer for the Holy Father's intentions (Creed, Our Father, Hail Mary and a Glory be) and a detachment from all sins. (cfr. Apostolic Constitution on Indulgences nos 7&8)
The receipt of a plenary indulgence means that the Holy Soul is freed from all the temporal punishment due to sin and as such can enter fully into heaven with the Lord. Therefore, it is a great grace to apply this indulgence to a departed loved one or even to someone who has no-one to pray for them as you can already think of them enjoying the eternal beatitude with the Lord.
Further Reading
Enchiridion of Indulgences given by the 1968 Decree of the Sacred Apostolic Penitentiary
Catechism of the Catholic Church 1471-1479