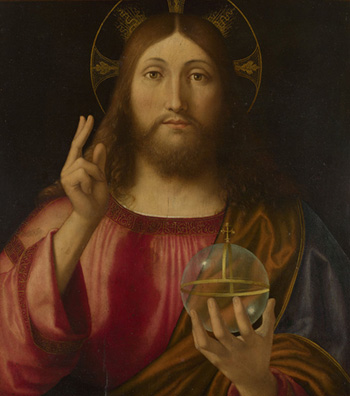 This is the message that resonates in the Church on the feast of the Solemnity of Christ the King. With this feast, the Church, Christ's spouse and mother of all that hope in Him, calls on all Christians to remember Christ's universal Kingship.
Out of His great love for mankind, Our Divine Saviour decided to enter human history, living the condition of men, so that by His death and Resurrection He could bridge the abyss that sin created between God and man. He, the new Adam, assumed the human condition so that He could save mankind at the moment of His death. This is the greatness of our King! He is the Word Incarnate, the only one that could save us from sin and death. His death on the cross overcame the darkness that consumed mankind because of the very fact that He is the Son of God who reigns over all things. His resurrection snatched life from death and limited the power of the devil: "For everyone who calls on the name of the Lord will be saved." (Rm 10:13)
St Peter reminds us that we should live in the full knowledge that our redemption was bought at a great price, with Christ's blood (cfr 1 Pet 1:18-19). The Lord would have undertaken all that suffering to save even one soul and so we can only immagine the great value that our soul has in His eyes. No one can love us so completely like God. No one has ever taken care of us like God and nor will anyone be so joyful as to welcome us into His arms as God. Thanks to Christ's sacrifice, the gates to Paradise are open. Man must now follow the path that, after our terrestrial exile, leads us homewards. However, this journey is not without obstacles. The devil never stops tempting us to take the path that leads us away from our Ultimate Good, the Lord. Therefore, we are called each day to constantly choose that which leads us to Christ and that which allows us to journey towards our Eternal homeland. We are motivated to follow this path not only in order to be "just" before God but also because, in so doing, we become more human. Only by doing good is man able to grow and dilate his heart. The journey towards heaven is therefore good for us. Upon this road we are never alone as we have the Church our mother to guide and strengthen us through the sacraments. Often, we may act as if we do not have any need of anyone in this life. However, man is made for a relationship with his Creator and this renders us ever more human if we allow Him to truly enter our hearts.
Upon this great feast let us be filled with joy for the great Redeemer who has saved us. He is our Lord and Saviour, the only One worthy of our praise and adoration as it is He who gives sense to our very existence. We live in world in which it is ever more difficult to profess our belief that Christ is our King. His is not only our King, but, as this feast reminds us, He is the King of the Universe, history, time and all created things, visible and invisible! Therefore let us unite with the prayer of the Church to say: "Christus vincit! Christus regnat! Christus imperat!".