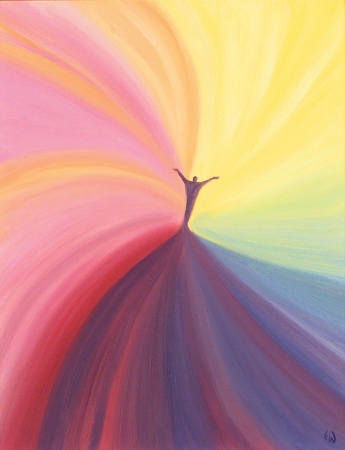 Have you crossed over the threshold of another new year and started to live it like you were enjoying the first year of your life? This simple consideration, highlights the fact that everyone's life's journey is an energetic, but silent, flow of time towards something. This "something" is often difficult to comprehend and so it is opportune that, at the start of a new year, everyone asks themselves, "Where is my life going?" Everyone, in some form or another, has this same experience as the old year passes and we commence a new chapter at the start of a new year. Why do so many of us live lives that concentrate on the greatest number of things that one can try in order to hide from the fear that life may pass by all too soon, failing to reach its true potential. We must not live the passage of time without ever appreciating it, living as if we are on a continuous track that leads into a void.
Man is an eternal being and this is why the thought of death makes us reflect profoundly upon the purpose of our lives. It is death that allows us to return to eternity. The way to enter into eternity is the most precious gift that God gave us: His Son, Jesus Christ. He, Himself would say of Himself: "I am the way and the truth and the life." (Jn 14:6). Christ is way to reach the Father. Christ came to overcome death so that his brothers could return to God's loving embrace. There must be no more fear for those who love and believe in Him. It is important to have our destination, the Kingdom of Heaven, clearly in our minds and hearts. No one can rob us of Christ, no one!
Our life moves towards the fulfillment that no one, not even in death, can escape. In fact, in the Kingdom of Heaven we will worry no more about how time passes and how we use it because life is then eternal. This is the sense of our earthly pilgrimage: we journey according to the truth that when the Lord comes He will call us to return to Him, to live in Paradise.
Let us therefore reflect on the Lord's words that invite us to: "stay awake, for you know neither the day nor the hour" (Mt25:13) when the Lord will call us. Let us hope that the Lord will find us working for Him, striving to love each other and follow the teachings of His Church.
The Missionaries of Divine Revelation wish you a happy new year in the certainty that our Heavenly Father loves us and cares for us. If the Lord is Lord of time and history we have the certainty of being led to our heavenly home. Have a happy and holy 2015!