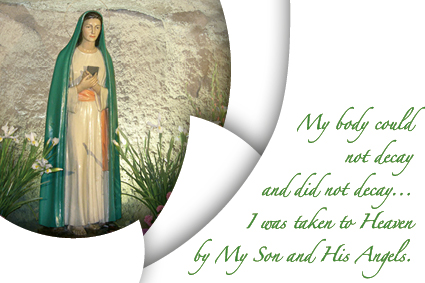 Dear friends,
Each year we celebrate the feast of Our Lady's Assumption into heaven and so it is fitting that we, like the Apostles who all gathered around her during her lifetime, come together around our celestial Mother to celebrate this great feast.
Eventually, the time came also for Mary to pass from this world to the house of the Father. There has never been a creature on the face of the earth who had collaborated with the Lord in such a magnificent way as Mary. She is full of Grace, the Holy Temple in which God found His resting place amongst men. Mary, together with her glorious husband, St Joseph, brought up the Son of God to maturity and so prepared Him, in a human way, to become the Redeemer of mankind.
Undoubtedly, Mary would have always known that her Child was a special gift to mankindas He came from God and so, to a certain extent, He was not totally hers. This becomes clear when Mary and Joseph find Him in the Temple at 12 years of age and He said to them, "Why were you looking for me? Did you not know that I must be in my Father's house?" (Lk 2:49). However, Mary was not afraid of this special mission because she renewed her Fiat to the Lord each and every day. This Fiat was fulfilled right up until the day when she was stood at the foot of the cross as a witness to the death of her Son.
At the end of His earthly presence, Jesus entrusted His mother to St John, the Apostle, who "took her into his home." (Jn 19:27) We can therefore be sure that, as the Mother of the Church, Mary continued to encourage, pray and support the first Christians in their mission and their faith.
Finally, we think of Mary during her last hours on this earth knowing that she was soon to depart to see Her Son. We can imagine her eyes looking heavenwards for the arrival of her Son. Those eyes that watched the Son of Man grow to maturity and die to redeem mankind. We can think of those eyes that looked lovingly towards everyone and that are now about to close in this world.
Mary awaited Jesus' return to take her into the glory of heaven. Then finally, she could sing with the Song of Songs, "I hear my love." (Songs 2:8) Mary is beautifully adorned and, before the gaze of those who cared for her in this life, is taken up to heaven by her Son. Now, just as Mary received the child Jesus as a babe in arms, Jesus takes Mary into His arms to bring her to her heavenly home. There is great joy in Paradise at her arrival! Finally, Mary has reached her eternal homeland and is crowned Queen of Heaven and Earth and Mother of the Church. Mary reigns and watches over the Church from heaven and each of its members too.
Let us entrust ourselves to Mary's protection. Dear Mother Mary, help us to prepare a fitting resting place in our hearts for your Son and guide us on our life's journey so that we too can enjoy the "beata pacis visio".