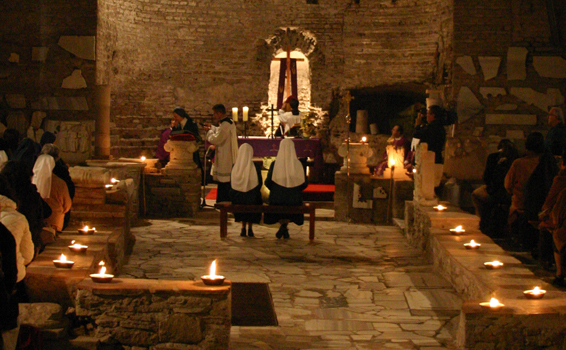 The little word that is more valuable to God than any other is "YES"!
God pronounced His "YES" to man in the silence of eternity. Adam and Eve said their "no" to God through the confusion and deceit of the devil. To say "NO" to God's love means that we will live far away from Him and His love, hiding ourselves from His sight (cfr Gen 3: 1-8). What a great mystery! God "respects" man's "NO" and does not impose His love! You cannot oblige anyone to love, and so God awaits man's freely given "YES" to His love.
Mary said "YES" to the Lord in the silence of her poverty and humility. In Mary's marvellous "yes" is implanted the many "Yeses" of martyrs and saints. Human history is made up of millions of mankind's "NO" however, the history of Salvation is made up of millions upon millions of "YESES" of those who have permitted God's love to wash away the wounds created by man's sinful "No's".
A "Yes" to God and to His project allows Eternity to enter into the present of your today, of your life and it allows us you to live in the fullness and abundance of the Truth, giving you the taste for life! It is because the "YES" that you say to God everyday allows you to enter into a relationship with the Eternal One. Your life, your joys, your sorrows all enter dynamically into the Divine life and so they are not only yours but also God's as you have offered everything to Him. Think of Mary's "Yes" that gave the power to enable Salvation to enter the world. Let's try and think of that Grace that God wants to enter the world through your "YES". A little observation reveals that when one says "NO" to God and to His project it is because we are giving our "Yes" to the project of our egoism, we are selecting a good that is smaller and more insignificant in respect of the greater project that God has in mind. Taking a practical example, if we think that St Thomas Aquinas would have been saying "NO" to God's project by becoming a prince as his father desired. Instead, St Thomas said "YES" to God and entered into a community of Dominican monks. Still today, the students of philosophy and theology are illuminated by one of the greatest thinkers in the world and the Church.
If our foundress Mother Prisca had not said her "YES" we would not be here writing this brief article.
In order to respond with a "Yes" to God, let's imagine that the Lord is looking at us in the eyes and awaiting our response. Entrust ourselves to His love! Let us praise God for the "YES" of many generous souls that have consecrated their lives for the good of the Church and so their adhesion to God's project has prepared the "good earth" to germinate the "YES" of many young people.