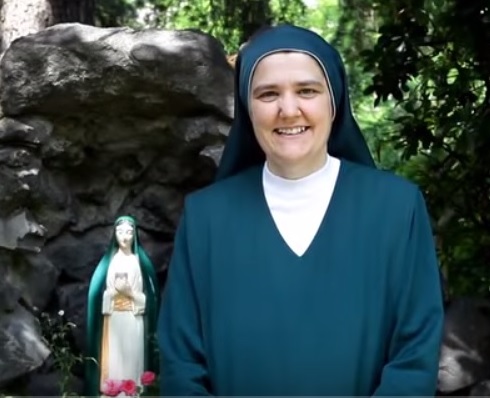 I always knew I loved the Lord! I felt that God had 'something' for me to do from an early age. The prospect of the Religious life was 'definitely not for me!' Although I loved the Lord intensely I was frightened to ever seriously explore what it may mean and besides I could never leave my family and friends in Wigan, England! A call to the religious life seemed to lack purpose in this modern age…no I was not interested! Although the feeling that I was meant to do something for the Lord resurfaced over the years I always suppressed it with my latest desire, entertainment and busy successful career.
In 1988 a friend introduced me to the apparition of the Virgin of Revelation in Tre Fontane, Rome and after a while I started to attend regular catechetical meetings in my parish. I began to experience that inner conversion as we discussed the Scriptures and the teaching of the Catholic Church my heart stared to 'burn within me'(Cfr Lk 24:32). I developed a thirst to learn the truths of the Catholic Faith and transmit them to others. I wanted to tell everyone that 'God loves you, personally!' It was at this time that I was first introduced to the Missionaries of Divine Revelation (MDR).
Meanwhile, my career began to flourish and by 2003 at the age of 33 I was appointed to the Board of a thriving company as the Director of Operations. I had finally achieved 'everything' on my list. In all the hustle and bustle I started to sense that something was still missing. What was that 'something' that the Lord wanted me to do?
In June 2005 I took a weekend off and visited Rome with a friend. We planned a weekend sightseeing and enjoying ourselves but I was not prepared of Our Lady's knock out punch! With MDR we visited the Grotto at Tre Fontane to pray to the Virgin of Revelation for our intentions. It was a hot day and I took myself aside to pray. Whilst watching Sisters Priscilla and Agnese I was struck by the joy and love they showed and the feeling of wholeness in what they were doing. I was then struck by the thought …. 'that's what I am called to do'. Obviously the heat was getting to me! I brushed the feeling to one side but it had disturbed me at the deepest level. Alone, I said to the Lord….. 'you want me to give all this up? Rome….. The idea is crazy'. Over the next year I began to search for my true purpose in life. All my success began to '…seem as rubbish….when compared to Christ' (Phil 3:8)
Finally in 2006 providence brought Mother Rebecca to England and when we were alone I finally asked a question that had long been suppressed… 'How do you know if the Lord is really calling you?' After a long period of discernment and an intense time of prayer and reflection with frequent Eucharistic adoration, I became convinced that I had received the calling from the Lord. I was called to 'Follow Him' (Mt4:19) even though, humanly speaking, it seemed incredible. It meant leaving my successful career, living in a foreign land, when I am not fluent in the language, and most importantly, leaving my family.
On the 27th July 2008 I entered MDR with much joy. I can honestly say that I have found wholeness and joy in great abundance not to mention the satisfaction and challenge of using my talents for the salvation of souls and the good of the Church.
On the Feast of Christ the King 2009 I entered the Noviciate and became 'Sr Emanuela' as the Archbishop told me my new name I was struck by the fact that the Lord's plans for us, that something that the Lord has for us to do, is bigger than we could ever have imagined. My new name signifies a new mission from the Lord and I would encourage all young people to undertake that search as in that 'something' we will find our true fulfilment and happiness. The Lord is never out done in generosity and lovingly following Him leads us on a path of wholeness, happiness and gives us the true sense of our lives..
The search for my mission started with a question… 'Oh Lord what is your purpose for me?' and ended with a challenging response – 'Follow me'.
Sister Emanuela