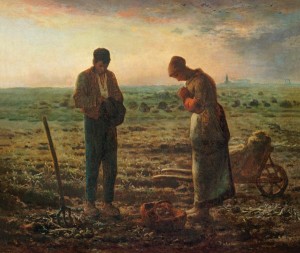 The Angelus was painted by JF Millet (1814-1875) in 1859. His early life was spent in rural France working on the family farm whilst being instructed in the classics by the priests from the local parish. Millet inherited his father's artistic talent and as a boy copied prints from the Bible and so his artistic skill became apparent from an early age. Eventually he left his rural homeland to refine his painting skills in Paris before moving to Barbizon.
The Angelus shows two peasants in a field praying and the painting was undoubtedly inspired by Millet's work on the land.
The masterpiece, which is arguably his greatest work, transports the viewer into a rural scene, in an age gone by, when life was simple, punctuated by the changing seasons and the days by the tolling of the bells for prayer and a pause from work.
It is dusk, the sun is setting in the sky and the 6pm Angelus bell tolls form the Church whose steeple is barely visible on the distant horizon. The farm workers leave their tools aside to stop to pause at the end of their day to pray the Angelus. Their heads are reverently bowed in prayer and their hands joined in supplication as they meditate on the mystery of the Lord's Incarnation. The sparse landscape acts as a beautiful backdrop to this moving scene emphasising the centrality of the peasant couple in prayer. Their work tools rest beside them and act as a symbol of the importance of their relationship with their Creator that even comes before their daily toil. The scene evokes a strong religious sentiment because from the viewing position of the piece the onlooker is invited into the intimate circle of the couple in prayer.
On the 16th March 1865, Millet wrote to his friend, Simeon Luce, regarding the inspiration of the masterpiece saying, "the idea of the Angelus came to me because I remembered that my grandmother, hearing the Church bells ringing while we were working in the fields, always made us stop work to say the Angelus prayer for the poor departed very religiously with cap in hand." Upon finishing the piece, Millet asked his agent, Sensier, for his thoughts regarding his work. Sensier replied, "it's the Angelus" and then Millet asked him, "can you hear the bells?" Therefore, without question, the praying of the Angelus inspired a masterpiece!